We are located at 5350 Encelia Drive in Twentynine Palms, California. The cemetery grounds are open from sunrise to sunset, daily.
Please contact us if you need further directions or have any other questions or have any issues accessing the website.
Office Hours: By Appointment Only 
M-F 9:00 AM to 3:00 PM AND APPOINTMENTS ARE ENCOURAGED
Saturday:  Closed but Appointments are available upon request
Sunday: Closed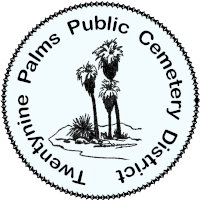 NOTICE
The Twentynine Palms Cemetery will host the Memorial Day Service on May 30, 2022 at 6:00 PM. 
                  TO MINIMIZE THE SPREAD OF INFECTIOUS DISEASES                     PLEASE DO NOT ENTER THE CEMETERY OFFICE IF YOU ARE EXPERIENCING ANY SYMPTOMS OF A CONTAGIOUS ILLNESS
For all general questions or maintenance requests, please visit our
office or call us at (760) 367-9316
or the Cemetery Cell Phone (760) 399-7578 
FEMA Reimbursement for COVID-19 Related Funeral Expense Assistance
Why Unique? Why Visit?